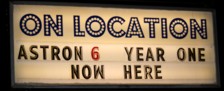 THIS DVD IS SOLD OUT,
TROMA SELLS ONE WITH EVEN MORE STUFF ON IT!


Own the first Astron-6 DVD and tell mainstream cinema to get fucked. We did our part, now you do yours.

LAZER GHOSTS 2
-audio commentary by Astron-6
H.I.Z.
-audio commentary by Astron-6
GOREBLADE
-Duel of the TItans
-Chat Quest
-Don't Fear the Reefer
-GO-BLADE
SIAM I AM
INSANOPHENIA
PUNCH OUT
SEBASTIAN & ALAN

BONUS FEATURES:
-COOL GUYS Trailer
-HEART OF KARL Teaser
-ADDICTION IS MURDER
-STREET RACER
-KARL
-Poster Gallery




Special Thanks to Ken DeRuyck - the DVD Master
and The Winnipeg Film Group!