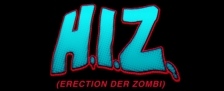 "When there's no more room in hell, the dead will fuck at a camp"
Five fresh faced camp counsellors arrive at Camp Ena, a place where teenage boys and girls learn to experience the joys of nature, as
well as each other. A military virus released into the environment twenty years earlier has a deadly effect on the counsellor's genitals
causing their erotic games to turn deadly. If you like
Zombi 3, Friday the 13th part 7
, or just STDs in general, you'll wish
H.I.Z.
would
never end.


Running Time: 26:20 minutes
Written & Directed by Matthew Kennedy & Conor Sweeney
Music by Jeremy Gillespie & Mike Procyshyn
Starring Adam Brooks, Matthew Kennedy, Conor Sweeney
Aaron Bland, Satu Kolshuk, Reilly Scott, Jeremy Wyatt,
Mykahl Summers Shannon Brereton, Toby Hughes & Chris
Epp
Special Effects by Steven Kostanski

Festivals:
07-26-09 Gimli Film Festival
04-24-08 University of Winnipeg Student Film Festival
10-26-07 Winnipeg Short Film Massacre

Anticknap Review




ęBACK