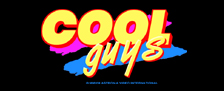 Three fuckups go to the beach in an attempt to be "cool" and hilarious hijinks ensue. Watch the movie that almost destroyed
Astron-6 today!


Running Time: 28:38 minutes
Written & Directed by Astron Smithee
Edited by Matt Kennedy & Adam Brooks
Music & Titles by Jeremy Gillespie
Starring Adam Brooks, Matt Kennedy, Conor Sweeney,
Amy Groening, Meredith Sweeney & Falcon Van Der Baek


Festivals:
07-21-10 Gimli Film Festival
04-22-10 University of Winnipeg Student Film Festival

Anticknap Review




ęBACK








WATCH THE HILARIOUS & CONTROVERSIAL TRAILER BELOW!




What happens when two lonely losers and one wild party animal hit the beach for some hot fun in the summer sun? Can they learn to be cool or is cool something you're born with? You'll find out in this hilarious summer beach comedy from Astron-6 that holds its own against the other great beach comedies of years gone by (Weekend at Bernie's, Jacob's Ladder, Hardbodies.)


Festivals:
10-30-08 Winnipeg Short Film Massacre