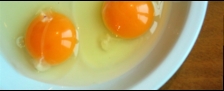 Five friends, a love of film and a suicide pact.
In Tolkein lore, Astron-6 is the day of The Elvish New Year. And a new year is upon us indeed...
From their first meeting at The Winnipeg Short Film Massacre, the five men instantly found themselves embroiled in a deadly game of cat and mouse. Rather than destroy eachother, the sworn enemies decided to unite - and then destroy themselves (once famous.)
Astron-6 is the brainchild of these five iconoclastic, multi-media artists who share a fascination with the mechanics of fear and laughter. They subvert the expectations of the seasoned viewer with the nightmarish and absurd. Their imagery and recurring themes are often torn from the childhood of the irony-craving, internet savvy Generations X and Y.

F.A.Q.

Q: So... what's Astron-6?
A: Astron-6 is the banner/brand we go by and it is no coincidence that "Astron" sounds a lot like "Vestron." The name is meant to evoke a certain nostalgia. We met at a local film festival and decided to make movies together. We all take turns writing, directing and acting. And most importantly: our movies cost nearly nothing to make. We are financed by pure, naive passion and ignorance alone.

Q: When is the next Astron-6 feature coming out?
A: Never?

Q: When is No Sleep No Surrender coming out?
A: It is locked on a single, broken hard drive.

Q: Will there be a Fireman feature film?
A: Not unless you want to finance it.

Q: Where can I watch the Bio-Cop trailer? Are you gonna make it into a feature?
A: It's on the Manborg DVD right after the film and there are no plans at this time to make it into a feature, but I'm sure Steve could be convinced if somebody were to offer him huge money.

Q: Why no Manborg bluray?
A: Because it was shot in standard (low) definition.

Q: What camera did you shoot Father's Day on? What editing program did you use?
A: Father's Day was shot on a Canon 7D and edited with Premiere Pro on an iMac.

Q: What camera did you shoot The Editor on? What editing program did you use?
A: The Editor was shot on a RED ONE and edited with Premiere Pro CS6 on an iMac.

Q: Will you read and/or produce my script?
A: Nope.

Q: But if there are only five of you, why not call yourselves Astron-5?
A: Ever heard of numerology you stupid idiot? Only joking. The sixth member is you - the viewer.

Q: Greypoint Films and Astron-6 Video... what's the difference?
A: Greypoint Films is just what Matt and Conor called themselves before becoming part of Astron-6 Video. Think of Astron-6 as an evil umbrella corporation and Greypoint as two care-free fellas that stand under that umbrella. Does that help? No? Then think of Greypoint as the online group that has no legal income and is thus impervious to charges of copyright infringement. Better? You can find the whole Greypoint catalogue at GreypointFilms.com

Q: How can I join Astron-6?
A: You can't but we could always use free labor if you want to get your name in the credits.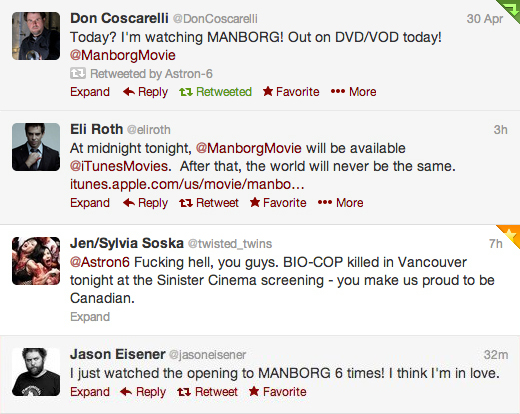 Astron-6 Develops, produces, directs, develops and performs in internet content and motion pictures. We are The Rest In Genre Cinema.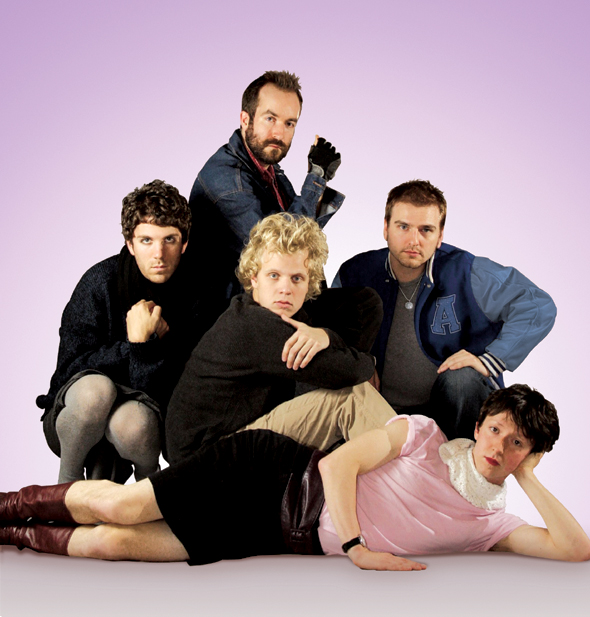 (From left to right Matthew Kennedy, Adam Brooks, Conor Sweeney, Jeremy Gillespie and Steven Kostanski)
The Five Faces of Astron-6...
Matthew Kennedy
MFA, Drama. Comedian, actor and commercial producer.
Conor Sweeney.
Writer, Director, actor and brother to Astron-6 favorite Meredith Sweeney.
Adam Brooks
BFA, Painting. Starving artist. See his work at
adambrooks.net
Jeremy Gillespie.
Professional graphic designer, musician and director.
Steven Kostanski
BA, English. Filmmaker, animator and professional special effects artist.
PRESS PICS CLICK HERE!


© Astron-6 Video International